General News
February 2017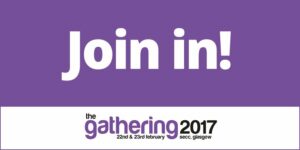 This year our Events and Fundraising Officer attending The Gathering 2017.  I love charity was the theme of this year's Gathering because SCVO believes Scotland's third sector deserves a bit of love.
The Gathering organised by SCVO is Scotland's unique event that brings together all parts of the third sector, with 3000+ visitors it is the largest event of its kind in the UK. The Gathering incorporates an exhibition and marketplace with over 100 exhibitors, as well as a packed events programme including over 50 workshops and seminars led by voluntary organisations, social enterprises, government, the media and companies who work with and alongside the sector.
A breakfast meeting with the First Minister opened the event and the whole event was a great opportunity to meet and learn from some of the best people working in and representing Scotland's third sector.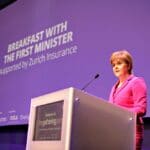 January 2017
Traditionally we hold a New Year Party for all of our Tailor Ed families annually at Time Twisters, Edinburgh. This year on the 20th of January we welcomed 90 people for fun, food and games.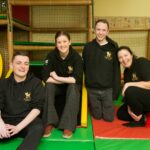 We currently have links with this organisation who open up their facility to exclusive use by the autism community living in Edinburgh once a month.  As per our regular sessions we encourage the whole family to attend the party so that siblings can benefit from an inclusive and safe environment in which to play with their siblings and peers. The Time Twisters staff put on an additional programme of games and fun suited to the audience and our project workers assist with this to make the event as inclusive as possible and tailored to the needs of the children attending.
This year we also welcomed Malcolm Cochrane, a professional photographer who took some great shots of the event. We hope to be able to share these with you soon.
November 21st 2016
On November the 21st 2016, we were delighted that our Senior Project Worker, Kate Langer was invited along to host an interactive workshop on Managing the Care and Support of People who have an Autism Spectrum Disorder. The Learning Disabilities Managed Care Network (LD MCN) covers the South East of Scotland (SEAT). Their aim is to provide information on Learning Disabilities within the NHS and to highlight the resources available to assist all those working with people with Learning Disabilities.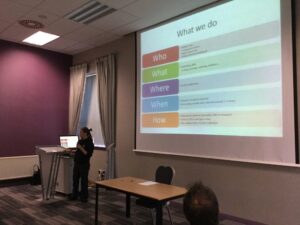 During the workshop Kate was providing examples of how autism affects individuals differently and she facilitated the seminar attendees exploring tools to consider this and how information can be used to inform support.
---
3rd December 2016
 Tailor Ed Visits Edinburgh College
Our Project Worker Sandy Patterson recently went along to Edinburgh College's Granton campus to speak to around 60 students on the work that we do here at Tailor Ed. The students who were from a range of the current Childhood Practice courses of the College's Health, Wellbeing and Social Science Faculty were delighted that Sandy could come along and share his experiences and expertise with them.
Linda, Childhood Practice Lecturer at the College said of the visits: 'These talks were so valuable for my students. As well as gaining a real insight into some of the challenges that children with autism can face with daily living, the depth of analysis and planning to meet individual needs & the difference that you can make to children's quality of life was truly inspirational.'
We're delighted that Sandy had the opportunity to speak to students who will be part of the next generation of professionals working with children on the autism spectrum.
---
18th November 2016
Two of our Project Workers attended a workshop hosted by Keys for Learning. This was a great opportunity to meet Robert Schramm, MA, BCBA. The workshop was on the 7 steps to earn Instructional Control and on how parents and professionals can be a child's best teacher through positive reinforcement and motivation. Both of our project workers found the workshop very interesting and insightful and had the chance to share all this useful information with the rest of our team.
---
3rd November 2016
We recently held one of our Coffee Mornings. As well as being informative, our coffee mornings are a great way to gain peer support and to talk to our staff on an informal basis.
A great turn out for this morning's event and many thanks to Rona from the Community OT team for coming along.
Cafe Camino was a lovely venue to be in so our thanks go to the team there too.
---
28th October 2016
Our Events and Fundraising Officer Fran recently attended a Portfolio Day run by Inspiring Scotland. Inspiring Scotland has been commissioned by the Scottish Government to work with charities throughout Scotland, enabling and supporting them on their journey to sustainability. As a supported Autism project, we were delighted to attend and to join the growing portfolio of Scottish autism organisations.

The keynote address was given by Ms Maureen Watt, Minister for Mental Health and there were a number of engaging talks from the Inspiring Scotland team. It was a great opportunity to strengthen links between other autism charities in the country and we'd like to thank Inspiring Scotland for holding the event.
---
26th October 2016
We recently held a two part workshop for parents on Teaching Playskills. Our Project Worker Sandy spoke to a group of parents covering techniques that can help their child with autism develop their play skills.  This included playing independently and with others as well as approaches to introducing them to new interests.
Feedback from the parents was great and all found the workshop to be beneficial. Our workshop series is designed to empower our parents to feel in control of developing strategies to help their children. Our next workshop will be on using Signalong. Signalong is designed to help children and adults with communication difficulties, mostly associated with learning disabilities, autism and other special needs. Signalong was founded in 1992 and is now widely used across the UK..
We would like to thank Andy and the team at Starbucks Leith Street for providing us with tea and coffee for the event and Sandra and the Staff at Leith Library for making us feel very welcome.