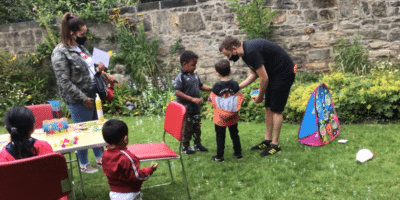 What is all about?
Tailor Ed is offering a new Play and Learn Sessions as part of our Early Years Service. These sessions aim to help families working with us to practice specific targets, such as requesting games or toys to other adults or peer, turn taking with kids, playing skills, access and safety in the community, following instruction, etc.
How does it work?
Families would be invited for blocks of sessions by their Project Worker for initial assessments or working on targets. Both parts would agree about the aims of the sessions before hand. Parents would have a very active role as they do at home, using teaching opportunities and resources available. They would also have the chance to meet other parents and talk to them if they want.
How to get there?
St Peter's Lutton Place
Lutton Pl, Newington, Edinburgh EH8 9PE
Bus: 3, 7, 14, 31, 37, 47, 49
Limited parking space on site.
Tailor Ed offers two parking spaces for families traveling by car, please contact your Project worker to reserve the space.
For any enquiry, talk to your Project worker or send an email to pete@tailoredfoundatiom.co.uk