The Tailor Ed Team
Project Manager
Dr Ruth Philip PhD (Roo)
Roo has worked with children with autism since 2000, primarily in home based, family run education programs prior to beginning work with Tailor Ed in 2009. She has worked with children with autism up to the age of
19, focusing on teaching communication and daily living skills. She completed a PhD at Edinburgh University in 2009 where she investigated emotion processing in Autism Spectrum Disorder.  During her studies Roo attended international conferences and courses on autism and has several peer reviewed journal publications in the field.  Much of her research was carried out in conjunction with Number 6 – the one stop shop for adults with autism in Edinburgh, where Roo also volunteered.  Roo has been involved in the Scottish Governments Autism Strategy and was part of the work group who developed the Menu of Interventions. 
Service Delivery Staff
Tailor Ed Foundation is made up of a group of trained professionals from a variety of backgrounds – including education, psychology and health –  who want to improve the day to day living of children with autism and enhance their family's quality of life.
Left to Right: Pete, Kate, Callum and Aliki
---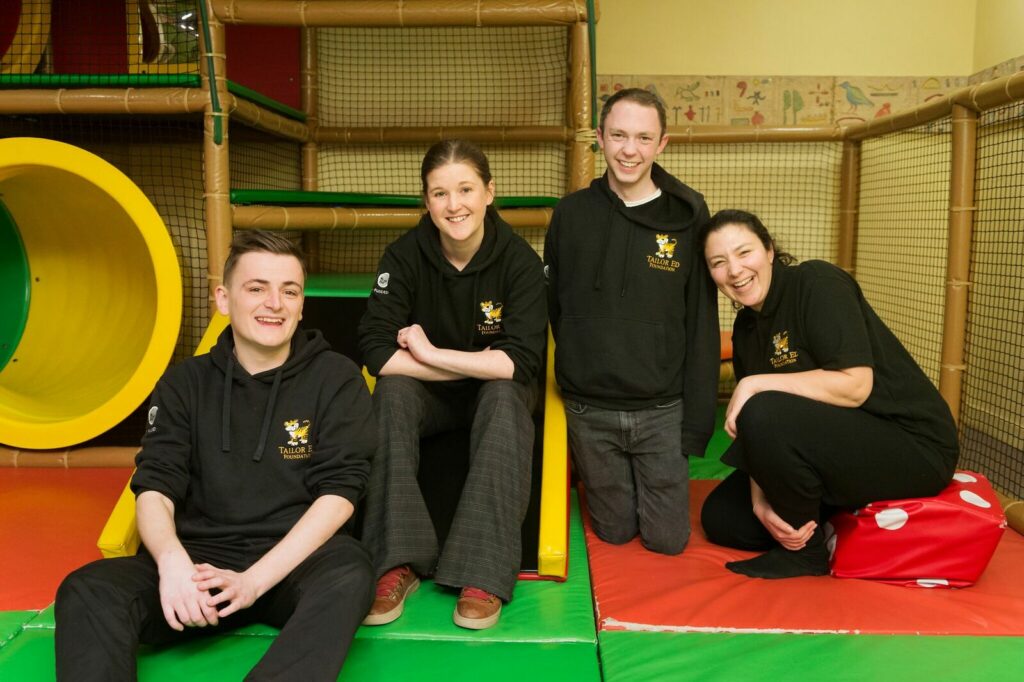 Kate Langer
Service Manager
Kate has worked with children with autism and their families since 2001. During this time she has worked predominantly on a one-to-one basis with children with autism both in their homes and in schools. The main focus of this work has been to develop communication and daily living skills. She has worked with children from age 3 to 13 and has experience of working with many individuals with a diverse range of needs and capabilities. Kate is a qualified nursery nurse and has completed an Open University degree in Childhood and Youth Studies.
Pete McNaughton
Senior Project Worker
Pete has worked with children and young people with autism since 2008. He has supported children both on a one to one basis and with group work in a variety of settings including family homes, schools, holiday play schemes, social clubs and in the wider community. He has worked on various targets including communication skills, self help skills, play skills and social skills. He has helped run social clubs for children with aspergers syndrome and high functioning autism aged 8-18. He used to run a respite service for children and young people with a wide range of disabilities, including children with autism. Pete completed an honours degree in psychology at Edinburgh University.
Callum Parker
Senior Project Worker
Callum has completed an undergraduate degree in psychology at Edinburgh University, graduating in 2012. He has personal experience of autism due to his younger brother having a diagnosis and has worked with children with autism since 2007. This has been in home education programs as well as play schemes, where targets have aimed to develop and encourage communication, daily living and play skills.
Martha Homberg
Project worker
Martha has worked with children and young people with neurodevelopmental disabilities since 2014, with the last 3 years focusing in autism support. She has had the opportunity to work with groups and one-on-one in a variety of settings, including clinical research, residential services and both home and centre-based support. She has worked with a wide age and need range, on a variety of targets going from self-help, communication and play skills to academic and independent leisure. Martha studied Psychology and Play Therapy in Mexico, and more recently obtained an MSc with distinction in Neuropsychology with the University of Edinburgh.
Eva Kriechbaum
Project worker
Eva has worked with children with autism and other disabilities since 2011. She has supported children from 0-25 in different settings all with a person centred approach. Eva has supported children both one-to-one and on a group basis and has supported children in the community and family homes. Most recently Eva has worked at The Yard where she supported many different sessions and planned and delivered sessions for one of their teen clubs. Eva has an undergraduate degree in Psychology from the University of Stirling and recently graduated from a MSc in Integrative Neuroscience at the University of Edinburgh. 
Office Personnel
Stuart McCallum   
Fundraising Manager 
Stuart joined the team on April Fools day 2019!
He has worked in youth and community work for nearly 30 years. In the past decade he has focused on fundraising, helping charities to secure essential funding from trusts, National Lottery, donors and community events. We welcome Stuart on board and look forward to the fruits of his labour sustaining and developing our services.    Stuart has lived in Leith for nearly 40 years and is an active member of Lochend Golf Club. His two daughters have now flown the family nest and he assures us he has almost recovered financially and emotionally from his eldest daughters wedding last year!
Avril Duff 
Avril has joined Tailor Ed following 6 years as the Office Administrator for a charity supporting brain-injured adults. She has some awareness of the challenges facing children with autism from her four years as a volunteer call-taker with Parentline Scotland and is looking forward to widening her knowledge.  Her role at Tailor Ed will be primarily involved with financial management.